Our Founder, Bob Cryer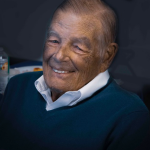 Armed with his career of consulting and volunteer work with SCORE, founder of ECofOC, Bob Cryer, analyzed the state of the local nonprofit sector and assessed what he thought to be the unmet needs. With the focus of aiding and developing the skills of nonprofit leaders through no cost coaching, Bob began working with nonprofits in Orange County around the year 2000.
From his SCORE involvement, Bob knew there was an army of executives willing to volunteer. Thus, in 2002, Executive Coaches of Orange County (ECofOC) a 501(c)3 nonprofit, was launched.
Today, ECofOC has over 220 coaching clients, 60 coaches and conducts three Executive Director forum groups. This is a grass roots volunteer effort with no paid staff or office.
Although Bob passed on in 2020 and will be missed, his legacy and spirit continue!
Our Vision
Every nonprofit leader in Orange County  is empowered with the skills and support needed to solve social challenges in their community.
Our Mission
Develop nonprofit leaders in Orange County for maximum impact through coaching.
Nonprofit Management Staff
All of our coaches are experienced executives who volunteer their time to mentor and coach our clients nonprofit management and leadership processes. ECofOC currently coaching over 200 nonprofit managers and since 2002, we have coached and mentored over 600 nonprofit managers, making us, by far, the largest nonprofit management and leadership coaching organization in the county. 
Go to Benefits of an Executive Coach for more information about our coaching program.
Go to  ECOC-intro to review a PowerPoint presentation on the features and benefits of our service offerings.
Our Organization
ECofOC's nonprofit management and leadership coaches donate their time to help nonprofit managers develop themselves and their nonprofit. We offer our services free of charge to Orange County's nonprofit leaders.
Our no-cost services:
Executive Coaching in nonprofit management, our principal program, provides one-on-one coaching to nonprofit leaders. Our coaches help leaders set specific goals and solve difficult issues from a nonjudgmental perspective in a confidential setting. Coaching can address virtually any nonprofit management issue, including board development, fundraising, outreach, leadership, management, finance, IT and HR issues, personal development and career planning. To apply for a coach, click here.
Board Retreat Facilitation

 

services include guidance in retreat agenda development, help in logistical planning and retreat facilitation. Our experienced facilitators will help you tailor your retreat to deliver the expected results. To learn more about these services, simply email us at

 

BoardRetreat@ECofOC.org 
Executive Director Forum

 

Our Executive Director Forum is comprised of 10 to 15 executive directors facilitated by two experienced ECofOC

 

nonprofit management coaches in monthly meetings using a proven process to guide the group to practical solutions for issues brought to the table by each participant. These sessions allow executive directors to test ideas and work though issues with a group of their peers. To learn more about this program,

 

click here.
ECofOC works in collaboration with several other Orange County nonprofits including:
1.  The Orange County Community Foundation (www.oc-cf.org) helped us get established in Orange County. A donor advised fund at OC-CF provides us with most of the funding needed for our program expenses.
2. The Orange County SCORE Chapter (orangecounty.score.org) offers for-profit start-ups and small businesses a wide variety of workshops and counseling services that can be useful to nonprofit managers. Some of our executive coaches are also SCORE counselors.
3. OneOC (www.OneOC.org) offers nonprofit managers a wide variety of workshops and consulting services that can also help the nonprofit build their business and their nonprofit management skills. We encourage our clients to take advantage of their low-cost workshops.
4. Charitable Ventures (www.charitableventuresoc.org) work with complex social issues by offering sponsorship, incubation, and capacity building services helping nonprofits launch and sustain their philanthropic efforts. Charitable ventures utilize ECofOC Coaches to work with many of their Fiscally Sponsored project leaders and has engaged our coaches as volunteers on education and training projects.
5. Gianneschi Center for Nonprofit Research (Zoot Velasco)  (www.business.fullerton.edu/engagement/GianneschiNonprofitResearch) uses the power and resources of California State University, Fullerton and the College of Business and Economics to "Grow Excellent and Exciting Exempt Organizations" (G3X) in our community. The Gianneschi Center is our partner in promoting superior leadership through training, coaching, and special events that benefit the OC nonprofit community.
6. The Nonprofit Collaborative of Southern California (Janet Forhman group) (npcollaborative.org) mission is helping nonprofits succeed. The network of combined knowledge represents key areas critical to a nonprofit's organizational stability and sustainability including Human Resources, Accounting, Legal, Fundraising, Insurance/Risk Management, Marketing/Public Relations, Information Technology, Transitional Management and Evaluation/Sustainability. Members meet monthly to review nonprofit trends and best practices in their combined support of hundreds of Southern California-based nonprofit organizations. 
7. Orange County Nonprofit Professionals Network (OCNPN) (https://www.ocnpn.org/) serves new and emerging nonprofit professionals in the Orange County area, looking to grow and elevate their career by providing opportunities for experiential learning; and sharing personal and professional achievements that inspire, connect, and elevate voices in OC's nonprofit community.